Drug and Alcohol Testing
Fast, Reliable Results at Your Convenience.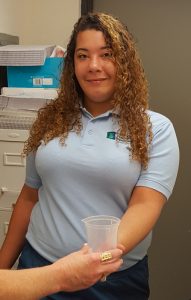 Employee Testing & Health Services (ETHS) provides affordable drug and alcohol testing for DOT-regulated employees and non-DOT employees.
ETHS performs urine and hair follicle drug screen's as well as breath alcohol testing. Our tests provide the highest level of accuracy and confidentiality. Alcohol testing is available immediately, drug screening results may take 1 – 3 days.
Screening your employees has never been easier, with our drug and alcohol testing services. We are fast and efficient, providing the ideal solution when you need to ensure your employees are drug and alcohol free.
ETHS provides drug and alcohol testing services for large and small businesses. Individual walk in customers are welcome also.
ETHS can provide on-site drug screen services for five or more employees, upon request.
All our urine drug and breath alcohol testing programs follow DOT regulations and are 49 CFR Part 40 Compliant.
Yes! I would like to take advantage of the benefits offered by ETHS.
Call 251-343-8005 to request a personal consultation
with an ETHS representative.
Have the following information ready to discuss
with your ETHS representative:
• Number of employees
• Services requested
Request an on-site evaluation, if appropriate.